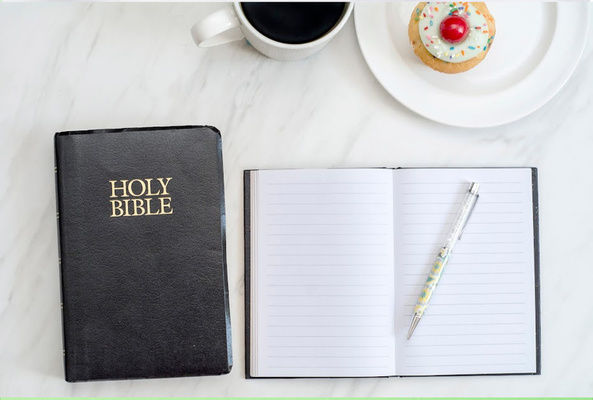 ---

Keeping a Christian journal is an excellent method to strengthen your faith, improve your spiritual and mental health, gain clarity, recognize patterns, feel calmer, and become more creative. However, many people struggle to come up with Christian journaling ideas. If you are one of those folks, we have compiled a massive collection of Christian journaling prompts to assist you.
How do I start journaling with God?
If you are wondering how to begin journaling with God, read this article where we share the best advice on how to start journaling for beginners.
Remember that journaling, like prayer, is just a conversation with Jesus. He encourages us often in the Bible to remember, and journaling is a great tool to help you remember.

Christian Journaling Ideas
Each of the biblical journaling ideas listed below is intended to help you get the most out of your journaling time.
How do you believe God has been shaping you to be more like Jesus?

Which of God's names do you know Him the best by? Which of His names would you like to know better? You can learn more about God's names by reading this article.

What's your relationship like with your earthly father? How has that helped or hindered your relationship with your Heavenly Father? What does God tell you about himself as a father in His Word?
"I will be a Father to you, and you will be my sons and daughters, says the Lord Almighty." 2 Corinthians 6:18 (NIV)
Who's someone you love? Describe your love for that person.
"The most important [commandment]," answered Jesus, "is this: Love the Lord your God with all your heart and with all your soul and with all your mind and with all your strength.' The second is this: 'Love your neighbor as yourself.' There is no commandment greater than these." Mark 12:29–31 (NIV)
What is God calling you to do right now? What steps do you need to take to walk in your calling?

What is your favorite Bible verse? Why? How has God shown that this verse is real and alive in your life.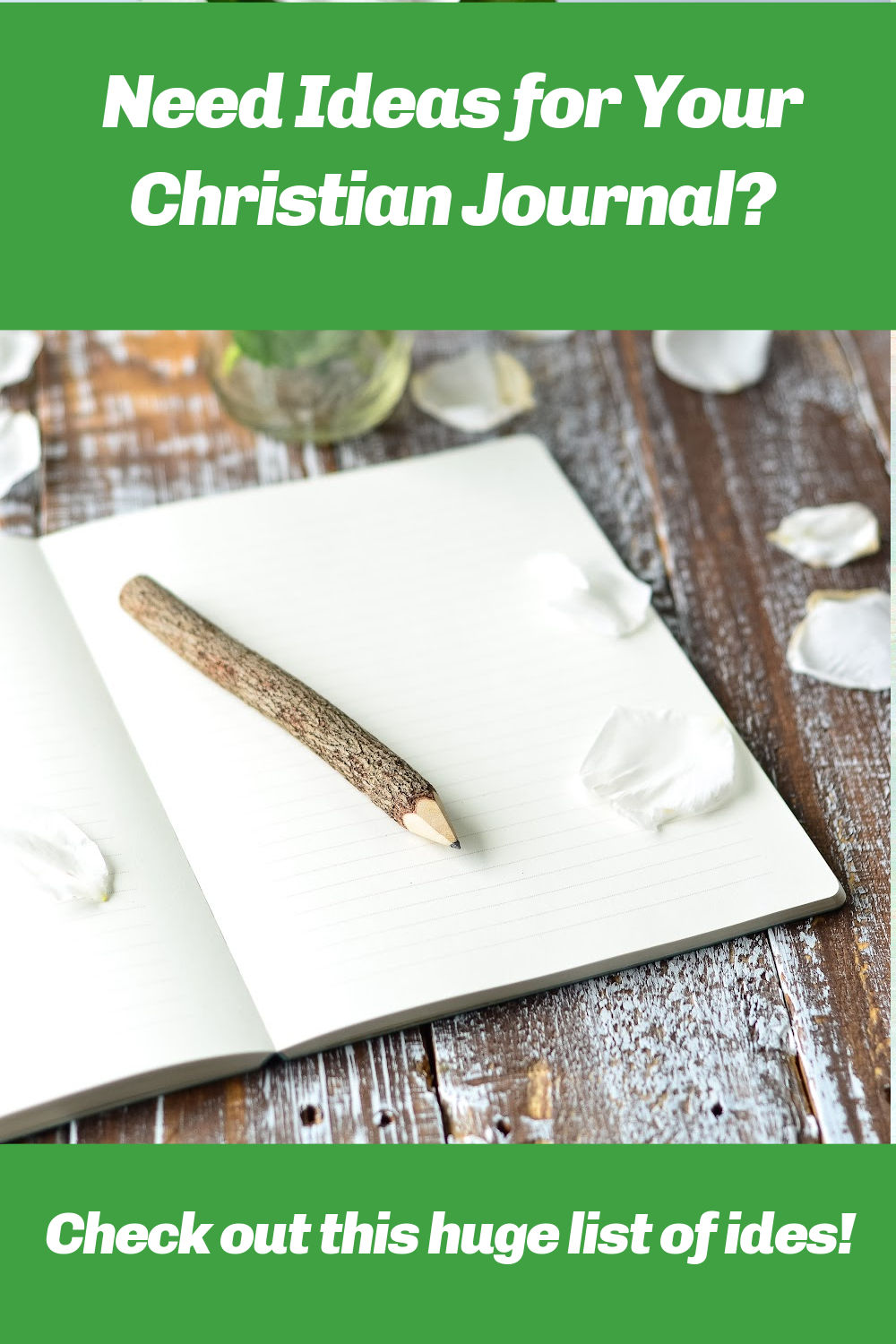 Pin It
In what area of your life do you need wisdom and help right now?
"If any of you lacks wisdom, you should ask God, who gives generously to all without finding fault, and it will be given to you." — James 1:5 (NIV)
What are you grateful for right now?

Think of something bad that happened to you recently. What are some ways that God might use that bad thing for something good?

What are you feeling right now? What is the purpose of that emotion in your life?

What are you looking for in friendships right now? What specific types of friendships do you desire this year? What's one step you can take to grow your friendships this year?
There is a friend who sticks closer than a brother. Proverbs 18:24 (NIV)
What has Christ taught you in the last month?

How can you encourage a pastor or ministry this week?

Are you prioritizing anything above your relationship with God? What is it?

What attribute of God are you especially thankful for right now?

What was the last sermon that made a big impression on you?

Who in the Bible do you relate to? Why?

What fear do you need to give to God today?

What experience most shaped your faith this past year?

How do you feel about God right now? Is he a pal? Coach? A dad? Or simply a friend?

Do you believe God hears your prayers? Why or why not?

What recent prayers, big or little, did God answer?

Do you believe you are using all of God's gifts this year? If not, how could you use them?

Do you feel like you're holding back when you talk to God, or are you just being yourself?

Do you think you ask too much of God? Or do you think you're asking too little of him? How come?

What blessings has God given you? Try not to think of the obvious things like good health and money for food. Find the frequently overlooked blessing, whether big or small.

For what have you given up praying for? Restart your prayers; God hears!

Has God recently sent a Bible passage or phrase to your mind? What should you do with the information?

Explore your creative side by drawing a picture, creating a college or something else.

Write about a time when you wish you had gone to God first but didn't? What could you do differently next time so that you go to him first?

Has God been bringing someone to your thought mind a lot lately? What should you do with the information?

Consider what you did this month that you couldn't have done without God's aid. How do you know?

Consider a period in your life when you felt abandoned by God. Looking back now, do you see how He helped you this season?

What can you do today to feel closer to God?

What is causing you anxiety right now? How do you cast that anxiety onto God.
Cast all your anxiety on him because he cares about you. 1 Peter 5:7 NIV
How to Use this List of Christian Journaling Ideas
There are several ways you can use the above list of Christian journaling ideas. First we recommend that you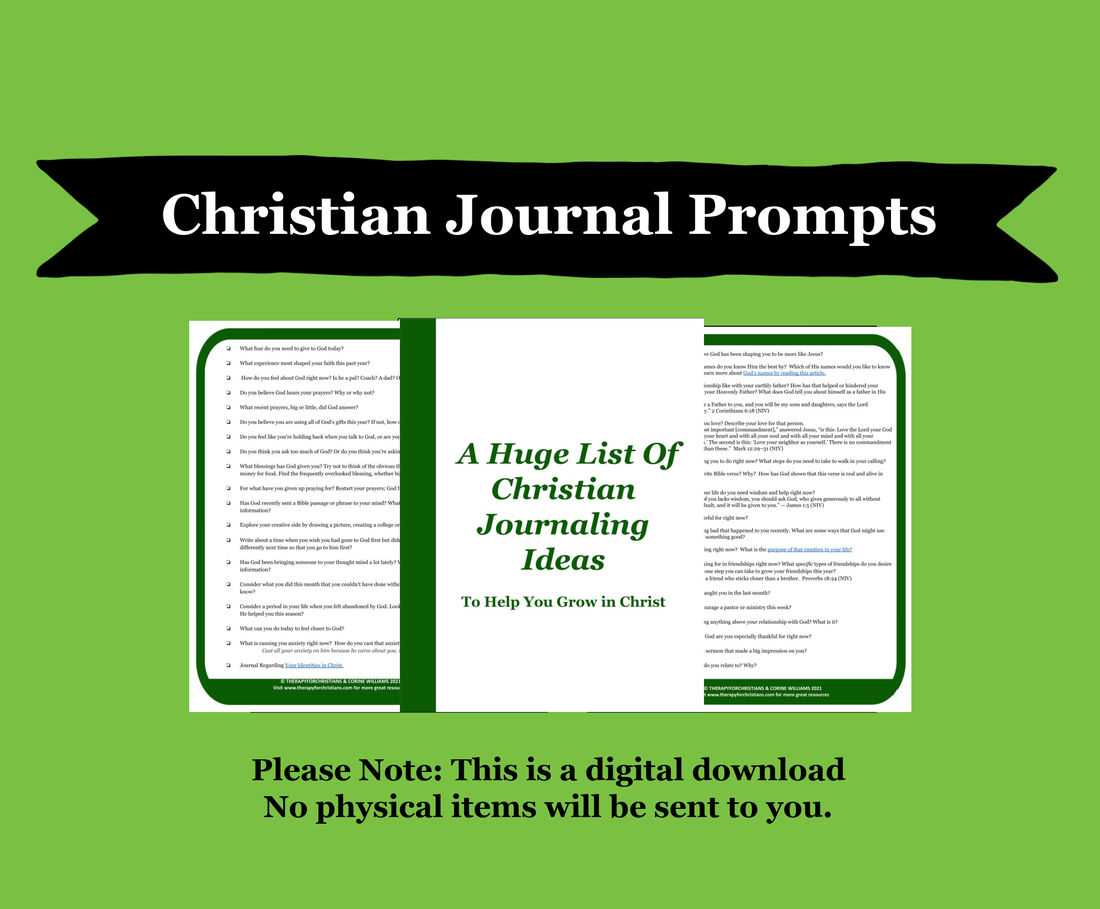 Buy Via Our Gumroad Storedownload a PDF version of these ideas for a gift of any amount including $0.
Then you can go through them one by one. I love excitement and impromptu adventures. If you are like me, you can also cut each journaling prompt and place them in a jar. Then pull a different question each day.
These prompts are great for a digital journal, the note app in your phone or a traditional paper journal.
About the Author: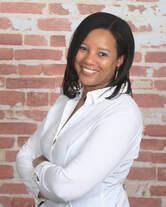 Corine Williams, Ph.D. is Clinical Psychologist that is currently seeing clients in the States of Maryland, New Jersey, and New York. You can find out more about her practice by visiting www.therapyforchristians.com/corinewilliams. In addition to providing individual therapy, Dr. Williams is also passionate about writing books and designing merchandise that educate, uplift, and normalize mental health subject in the Christian community. You can find out more about her at www.booksbycorine.com or by visiting her amazon profile here: https://www.amazon.com/Corine-Hyman/e/B00AWZ5FL2
Help us increase mental health awareness in the Christian community by donating through our paypal link here: www.paypal.com/therapyforchristians, joining our mailing list by clicking below, or join our provider list here: Provider listing
Disclaimer: the information, including but not limited to, text, graphics, images and other material contained on this article are for informational purposes only. No material on this site is intended to be a substitute for professional medical advice, diagnosis or treatment. If you are looking for a Christian counselor near you, please check out our directory located here: Christians Therapist Near Me
---
---
---
Featured Christian Therapists
---
The Crossings Mental Health Im...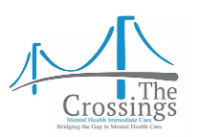 Specialty Psychiatrist or Nurse Practiti... Located in Fort Wayne, IN
View Listing
UeJin Kim

Specialty Psychiatrist or Nurse Practiti... Located in Helotes, TX
View Listing
Alexa Yassi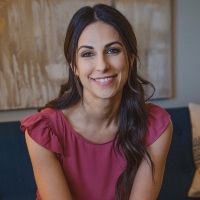 Specialty Attachment-based Located in Scottsdale, AZ
View Listing
---
Christian Mental Health Providers
Search to find a Christian therapist near you