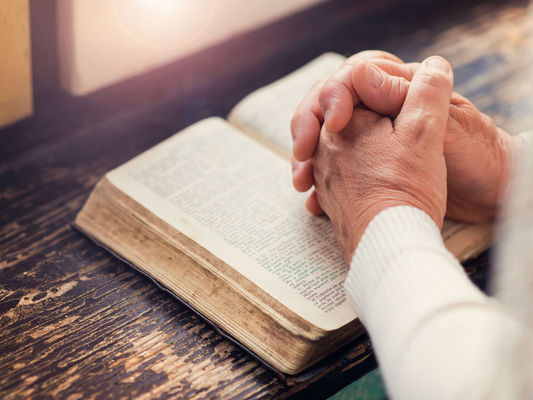 ---
Let's be honest and talk about a little Christian secret… Despite all we know about prayer, the power of praying and the benefits of praying, as Christians, we don't always feel like praying.
I know, for me, there are many reasons why I may not feel like praying. Sometimes I can't seem to get focused. Sometimes I'm too distracted, disappointed, hurt, sleepy, busy or 1000 other things that makes me not want to pray. Sometimes, I just cannot find the right words.
Despite all of these things, I know what the Bible says about prayer and the importance of it. I am also often reminded of the wise words of Charles Spurgeon; "We should pray when we are in a praying mood, for it would be sinful to neglect so fair an opportunity. We should pray when we are not in a praying mood, for it would be dangerous to remain in so unhealthy a condition."
Therefore, this article will explore what does the Bible say about not knowing what to pray and then cover 10 tips for when you can't pray.
What Does the Bible Say About Not Knowing What to Pray?
The Bible states in Romans 8:26 that "In the same way, the Spirit helps us in our weakness. We do not know what we ought to pray for, but the Spirit himself intercedes for us through wordless groans." This passage suggests that even when we don't know how to pray or what to say, the Holy Spirit can intercede on our behalf and communicate our needs to God.
So the first tip for when you cannot pray, is to allow the Holy Spirit to intercede for you . They way I usually do this is by acknowledging that I don't know how to pray right now. However, I then thank God because I know it is times like these, that the Holy Spirit is interceding on my behalf. If this tip gives you peace and a sense of God's presence, great that is all you need. If not, continue reading for 10 additional tips.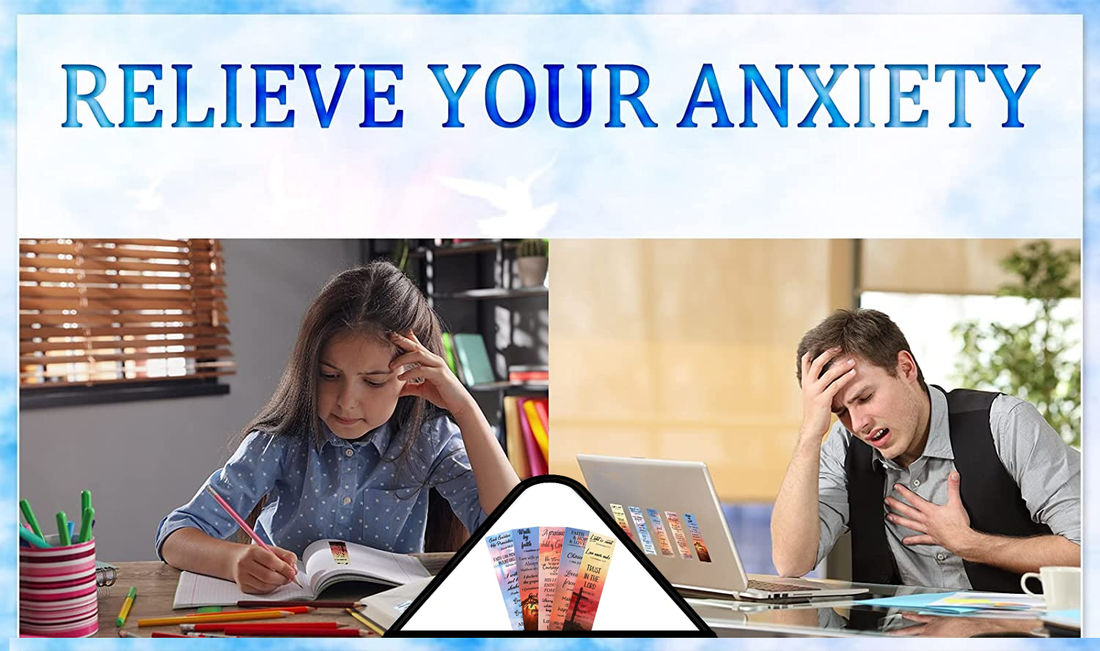 10 Ideas to Pray When You Can't Pray
The below ideas are things I use in my personal life as well as recommend when a loved one, friend or client let me know they are struggling to pray.
1. Pray Anyway
The first tip, is to just pray anyway, even if it is just 60 seconds. Oftentimes, when I can't pray I make a commitment to pray for a specific time. I am often amazed at how, once I start praying, I am able to continue to pray.
2. Choose to Listen
Remember prayer is a conversation with God, sometimes it's your turn to talk and sometimes it's your turn to listen. During your time to listen, allow the Holy Spirit to speak to you.
3. Have a Go-to Prayer
Whether it is the Lord's Prayer, the 23rd Psalm, or a prayer you came up with on your own, say it. My go-to prayer is a prayer I wrote during a stressful season of my life called Truth Prayer.
4. Say a Prayer of Praise
The Lord's Prayer is often use a a prayer model. In it, there is a section for praise. Therefore, when you are having a hard time praying, just praise God.
No matter what is going on in my life, there is always something to thank God. In addition, it is hard for seeds of discouragement, despair, and anger to take root in a heart filled with gratitude.
5. Pray for Someone Else
I am sure that, no matter how long I live, there will always be someone I know who needs prayer. When I can't pray for myself, I remember my unsaved loved ones and friends. People need healing; people need God to show up in their life in a way only He can. Praying for others usually helps me remember the importance of prayer.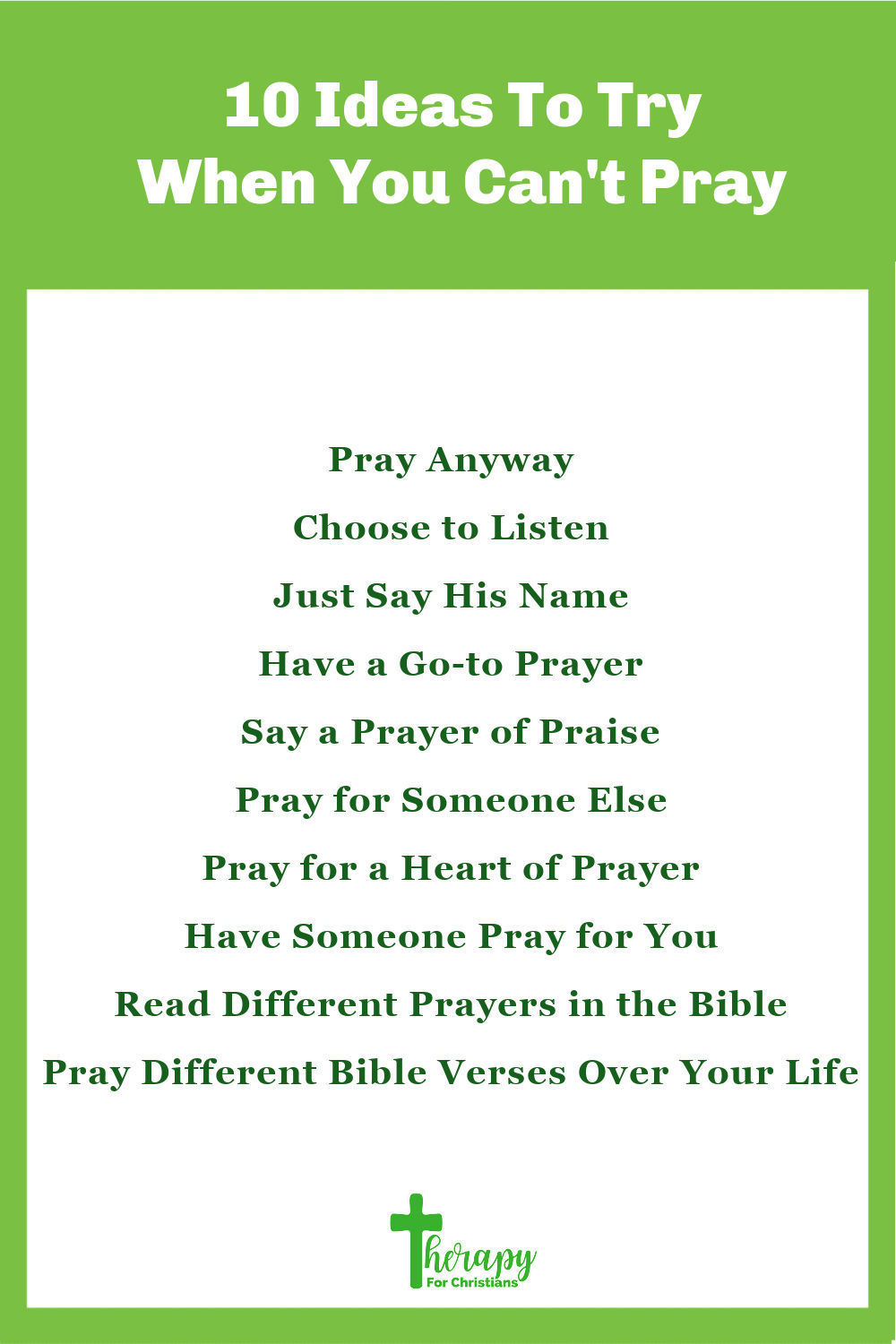 Pin It
6. Pray for a Heart of Prayer
Tell God how you are feeling and ask that He gives you a heart of prayer. God's Word promises us that we can ask for anything in Jesus' name (John 14:14) and the Lord will grant our prayer request. This includes the desire to have a fulling prayer life.
7. Have Someone Pray for You
Pray for one another - James 5:16
I would encourage you to identify one friend who you can call/text no matter the hour and have them beseech God on your behalf.
8. Read Different Prayers in the Bible
The Bible is full of prayers. Here are a few of my favorites: Psalm 57; Psalm 145 and 1 Samuel 2:1-10. Allow the words in each of these verses to minister to your soul.
9. Pray Different Bible Verses Over Your Life
When you cannot pray, reading different scriptures about your situation is a great play to start. Once you find a Bible verse that speaks to your situation or problem, pray it over your life. We know there is power in praying scripture back to God.
If you need help, praying different Bible verses over your life, I love the book Bible Prayers for all Your Needs. When I can't pray, I turn to this book to see what the Bible says about what I am going through. We also have several prayer cards you can download for a gift of any amount to help you pray God's Word over your life.
10. Just Say His Name
Sometimes, we do know what to pray but may not have time, such as when you lose control of the car after hitting a patch of black ice. Other times you may not have the energy to pray. In both of these cases, you can just say His name "Jesus!"
We know there is power in just say the name "Jesus." Whether you whisper his name in a moment of exhaustion or shout His name in a moment of fear, all that you need will be communicated with that one name and God will hear the the unspoken prayers of your soul.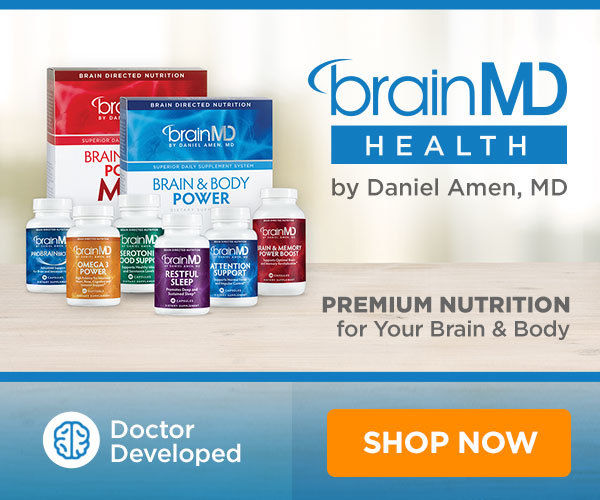 Final Thoughts on When You Don't Know What to Pray
There you have it, the 10 strategies I use for when I don't know what to say in prayer. How about you, what do you do when you can't pray?
Before, closing this article, I have to have a final moment of vulnerability. If you tried the above tips to pray and are still struggling, you may benefit from talking with your pastor, Christian therapist or life coach. I have been there and my life coach was able to help me work through was preventing me from praying. You can find a Christian mental health provider to help you on your journal by searching our directory.
Note: a version of this post was original published on https://satisfactionthroughchrist.com/
About the Author: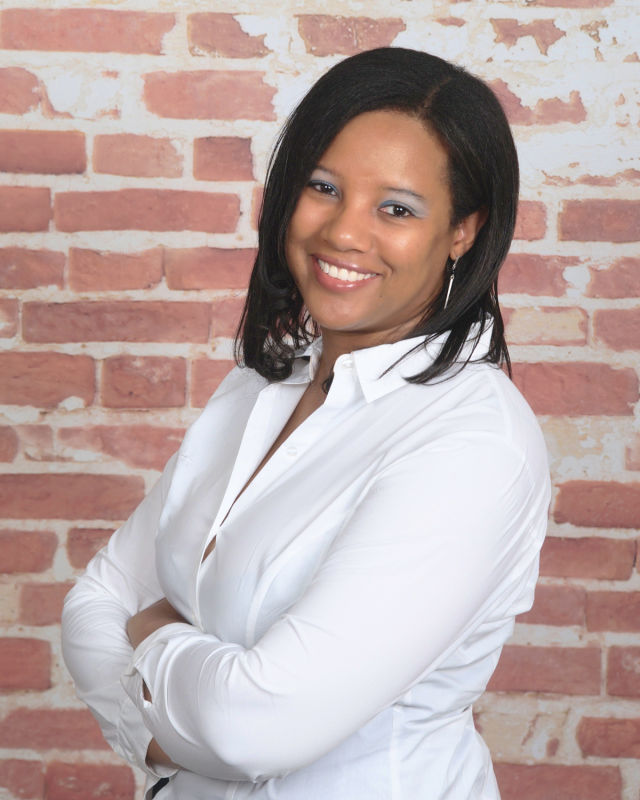 Corine Williams, Ph.D. is Clinical Psychologist that is currently seeing clients in the States of Maryland, New Jersey, and New York. You can find out more about her practice by visiting
www.therapyforchristians.com/corinewilliams. In addition to providing individual therapy, Dr. Williams is also passionate about writing books and designing merchandise that educate, uplift, and normalize mental health subject in the Christian community. You can find out more about her at www.booksbycorine.com or by visiting her amazon profile here: https://www.amazon.com/Corine-Hyman/e/B00AWZ5FL2
Help us increase mental health awareness in the Christian community by donating through our paypal link here: www.paypal.com/therapyforchristians, joining our mailing list by clicking below, or join our provider list here: Provider listing
Disclaimer: the information, including but not limited to, text, graphics, images and other material contained on this article are for informational purposes only. No material on this site is intended to be a substitute for professional medical advice, diagnosis or treatment. If you are looking for a Christian counselor near you, please check out our directory located here: Christians Therapist Near Me
---
---
---
Featured Christian Therapists
---
Jenika Miles

Specialty Psychiatrist or Nurse Practiti... Located in Allentown, PA
View Listing
Julius Quinn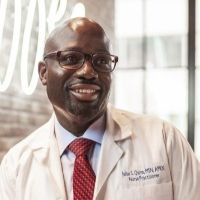 Specialty Psychiatrist or Nurse Practiti... Located in Wichita, KS
View Listing
Cana Psychiatric
Specialty Psychiatrist or Nurse Practiti... Located in Arizona City, AZ
View Listing
---
Christian Mental Health Providers
Search to find a Christian therapist near you