---

One of the most common things people say when someone is going through a tough time is to "let go, and let God." It may sound cliche because so many people say it, but it is still helpful advice, especially for those that are depressed or anxious. This phrase means to let go of all your worries, doubts, and fears and give them to God. To God To let go and let God means acknowledging that God alone has authority over your life and trusting in Him alone.
Now, there can be no better advice than that for someone who has been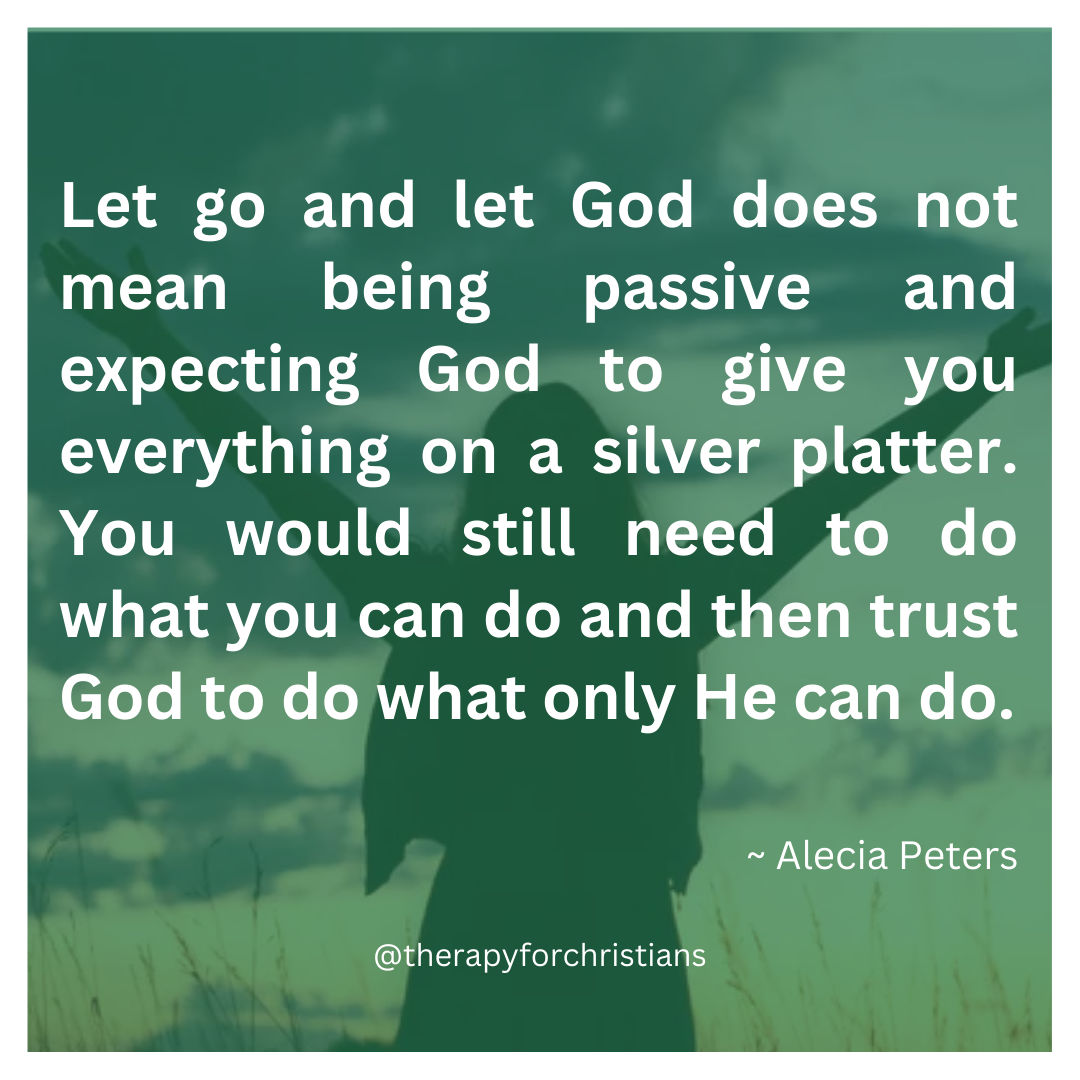 Like this content of Facebook struggling to keep their head above water. For someone who has a mental illness, the simple reminder that they can let go and let God is a game changer.
With the amount of power and wisdom the phrase holds, you would think it came from the Bible, but it actually did not. The phrase let go and let God, actually came from a book called Positive Thinking For A Time Like This by Norman Vincent Peale. The full quote reads "Let go and let God. Let Him take over your life and run it. He knows how."
Still, the Bible has many scriptures that say things along these lines, which is why it's still so powerful.
Bible Verses About Letting Go Letting God
One of the keys to the Christian life is hiding God's Word in our heart. In order to help with this goal, we identified the below Bible verses about letting go and letting God.
Proverbs 16:9 - A man's mind plans his way [as he journeys through life], But the Lord directs his steps and establishes them. - AMP
Isaiah 26:3- You will keep in perfect and constant peace the one whose mind is steadfast [that is, committed and focused on You—in both inclination and character], Because he trusts and takes refuge in You [with hope and confident expectation]. - AMP
Romans 8:28 - And we know [with great confidence] that God [who is deeply concerned about us] causes all things to work together [as a plan] for good for those who love God, to those who are called according to His plan and purpose. - AMP
Ephesians 3:20 -Now to Him who is able to [carry out His purpose and] do superabundantly more than all that we dare ask or think [infinitely beyond our greatest prayers, hopes, or dreams], according to His power that is at work within us. - AMP
Philippians 3:13-14 - Do not be anxious or worried about anything, but in everything [every circumstance and situation] by prayer and petition with thanksgiving, continue to make your [specific] requests known to God. And the peace of God [that peace which reassures the heart, that peace] which transcends all understanding, [that peace which] stands guard over your hearts and your minds in Christ Jesus [is yours]. Finally, believers, whatever is true, whatever is honorable and worthy of respect, whatever is right and confirmed by God's word, whatever is pure and wholesome, whatever is lovely and brings peace, whatever is admirable and of good repute; if there is any excellence, if there is anything worthy of praise, think continually on these things [center your mind on them, and implant them in your heart]. - AMP
Psalm 46:10 - Be still and know (recognize, understand) that I am God. - AMP
Jeremiah 29:11 - For I know the plans and thoughts that I have for you,' says the Lord, 'plans for peace and well-being and not for disaster, to give you a future and a hope. - AMP
Exodus 14:14 - The Lord will fight for you while you [only need to] keep silent and remain calm." - AMP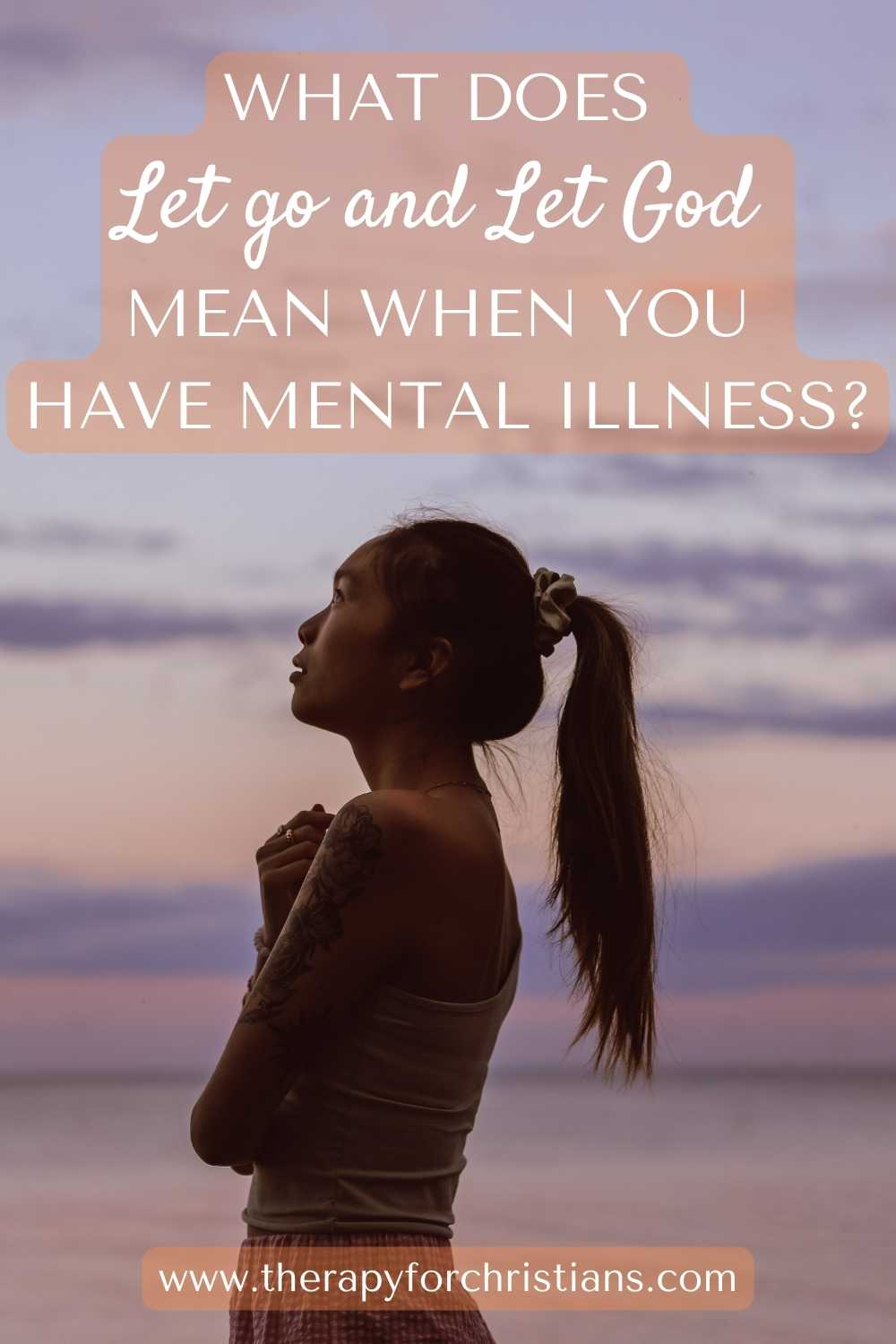 When To Let Go And Let God
The best time to let go and let go is ALL THE TIME. We should live our lives in such a way that we are always fully surrendered to Him.
The enemy takes no days off, every day there's a new problem to face, and a new battle to fight. With mental illness, it's even harder. With negative thoughts invading our minds so often, we must learn to quickly let them go and give them to God.
However, if letting things go is a struggle for you and you're the type of person who wants to have as much control as possible, take a moment each day to evaluate what you're going through. Anything you deem beyond your control should be given to God. There's no point in holding onto things that you have no power to change or control.
Learning To Let Go And Let God
It's not easy to let go and let God, especially when you don't know what and how. This is why it's important to learn more about it. Below you'll find a few examples of what to let go of as well as what to let God do.
What To Let Go Of
In order to live a life that honors God, we must let go of several things that our society values. Letting go of each of the below things will also benefit your mental health and result in less depression, anxiety and stress.
Let Go Of Entitlement:
It's easy to go through life feeling entitled to things, especially things that God has blessed us with before. This is why when something we're used to is taken away or something we want doesn't come to us, we're hurt. Having that much entitlement is not healthy, we need to let go of what we think we're entitled to and just let God be God. Trust Him to give you what He knows is best, not what you think is best.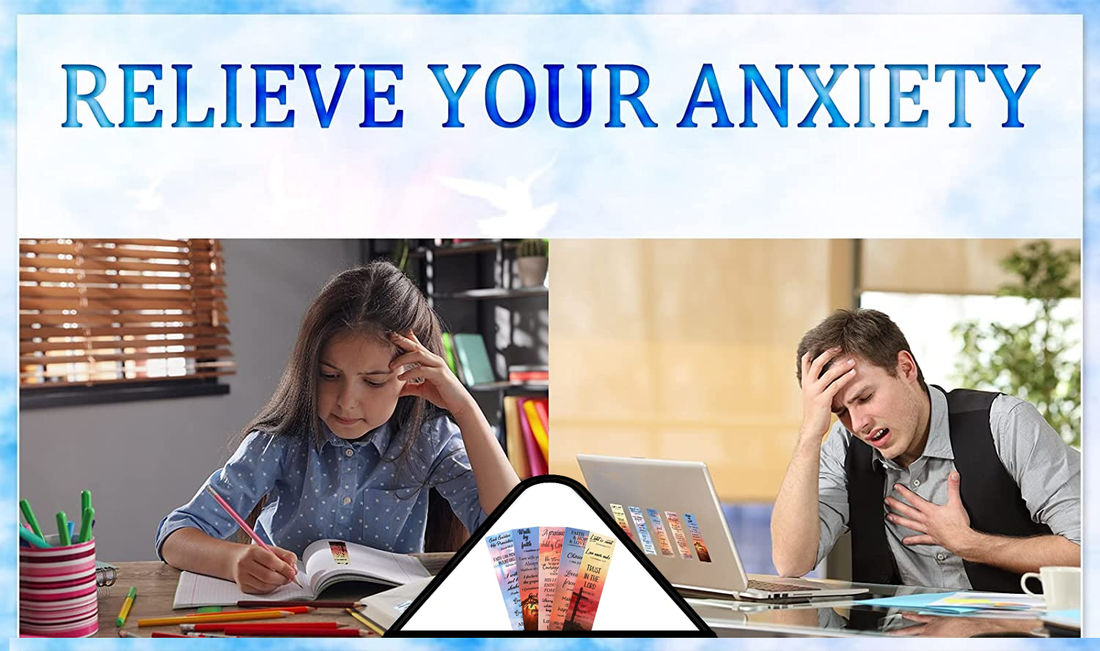 Let Go Of Expectations:
Similar to being entitled we also tend to expect God to do everything we want. Now there's nothing wrong with expecting some things from God. Like expecting Him to keep His promises is good because He will, but expecting Him to be your genie is unhealthy. He knows what you need a lot better than you and He will always ensure you have that. For this reason, it's important to trust that He knows, and let go of any expectations you have that may leave you disappointed in the end.


Let Go Of Worry:
Letting go of worry when you have mental illness means letting go literally every day. The world gives us so much to worry about already and worrying about our mental health is added to that. However, the Bible repeatedly tells us not to worry or fear. God knew that it would happen and He has already given us everything we need to overcome and let go.


Let Go Of Control:
Control is one of the hardest things to let go of because it makes us vulnerable. If we completely stop trying to control things it means putting complete trust in God. And for some people that is scary. However, if you do it once and see God come through for you, it will be easier every time. So give Him control today, just try it once, you will not regret it.

Let Go of The Belief that Christians Should be Free from Mental Illness
As Christians we know that God can heal us from physical illness like cancer, diabetes, the flu, and any other physical ailment. However, we also know that while He can do these things, He sometimes chooses not to for reasons that are beyond our understanding. Similarly, God can heal us from mental illness but He sometimes chooses not to heal us. The fact that God chooses not to heal us from mental illness does not make the person suffering with mental illness any less of a Christian or loved by God. Just like the person suffering from cancer is not less of a Christian or loved by God. We also know that being a Christian does not protect us from physical health problems. Therefore, we need to let go of the belief that Christians should live a life free of mental illness.
Let Go Of Your Future:
Do you know what the future holds? Of course not. None of us do. But God does, He knows exactly what your future holds because He planned it. So instead of wasting today worrying about tomorrow, trust God to finish what He started in your life. He will not let you down.
What To Let God Do
In order to live the life God is calling us to live, we have to let God do what only he can do.
Let God Show His Power
When our problems are solved by God, His power is shown and He gets the glory. The thing is that most of us don't allow God to do His work, we try to control everything and do things in our own power. However, we're not as powerful as God and we never will be, so let's choose to let go of control today and let God show His power.
Let God Comfort You:
The Bible says that God is close to the brokenhearted, He is a comforter (Psalm 34:18). So today, choose to let go of your worries, your sadness, and your fear and let God comfort you instead. Know that even in the toughest of situations He will not abandon you, He will be there to comfort you if you'd only take a step of faith and let Him.
Let God Become the Focus of Your Life:
Have you ever noticed how other things fade away from your view when you focus your eyes on one thing? That's what will happen when God becomes the focus of your life. If your eyes are on Him, anxiety will fade away, depression will fade away, fear will fade away, it may still be there but you won't see it. All you will see is the loving arms of the Father that is there to catch you any time you fall.
Let God Use Your Thoughts And Feelings:
Your thoughts and feelings have value, they are not for nothing. So as you let go, also let God use your thoughts and feelings to guide you in the right direction. He will know which ones are helpful and which ones are not, and He will help you through it if only you'd let Him.
What "Let Go And Let God" Doesn't Mean
Let go and let God does not mean being passive and expecting God to give you everything on a silver platter. You would still need to do what you can do and then trust God to do what only He can do.
This is not just a phrase to tell yourself when you feel lazy or worn out, it's a phrase that should remind you that God is right there with you. It should give you hope, not in your own abilities but in God's availability. He will be with you every single day and He will step into your situations every time you go to Him and ask.
Prayer Letting Go Letting God
Dear Almighty God, I come to you today in the name of Your Son Jesus and pray for confidence in your Word. Lord, your Word says that you will never leave me nor forsake me. It says that you will fight my battles and that I only need to be still. It says that you are close to me when I am brokenhearted and Lord I want to truly believe everything that it says. I want to be able to let go of my problems and let you handle them. I want to let my guard down and give up control.
Today, I'm asking you to take control of my life, Lord, may your will be done every day and in every area of my life. I submit and surrender everything that has been troubling my mind to you God, and I pray that you will do with it what only you can do. In Jesus' name, amen.
Final Thoughts on Let Go and let God
When we are able to let go and let God, He offers supernatural peace. If you find yourself to put your complete faith in God alone, talking with a Christian therapist, life coach or mental health professional may help. You can search out directory to find a Christian therapist near you here:
We have also identified the below resources via amazon, including the book, Positive Thinking For A Time Like This by Norman Vincent Peale the fist coined the phase "let go and Let God."
Positive Thinking for a Time Like This

Let Go & Let God Box Sign Mini, White

Let Go and Let God: A Devotional

Let go. Let God. Christian & Catholic T-Shirt

Let Go and Let God: Steps in Victorious Living

Christian Let Go and Let God Pullover Hoodie

---
Before you leave, we would appreciate it if you helped us spread the word by sharing, tweeting, pinning, etc. this post.
---
About the Author: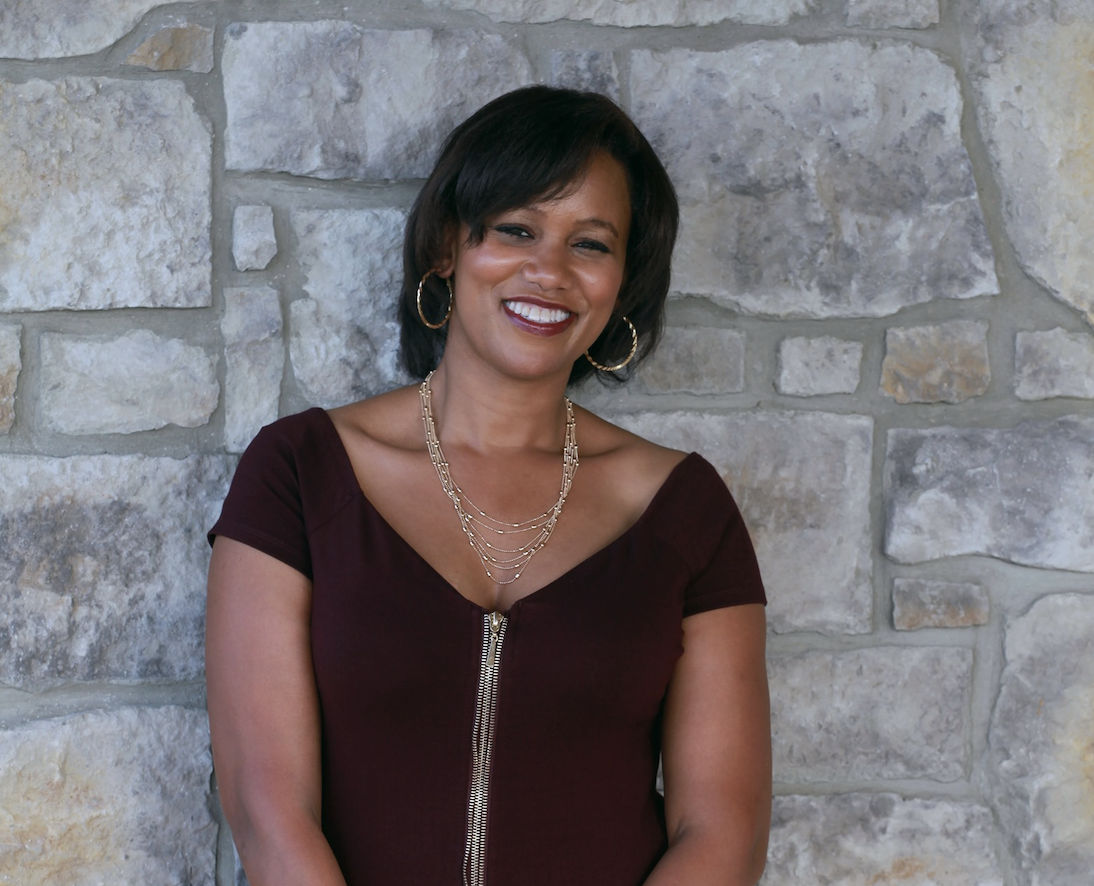 Alecia Peters is Christian, advocate and Therapist who fervently believes in holistic health and healing. Alecia's faith in Jesus Christ is the cornerstone of her strength and it has been her guide in life. She is currently treating children under the age of 10 in Texas. She is also the founder of Healing Heart Center, a non-profit organization whose purpose is to end domestic violence & sexual assault in Ellis County and surrounding areas. You can find out more about her by visiting: https://www.facebook.com/Healing-Hearts-Center-of-Ellis-County-221931447871976/
Help us increase mental health awareness in the Christian community by donating through our paypal link here: www.paypal.com/therapyforchristians, joining our mailing list by clicking below, or join our provider list here: Provider listing
Disclaimer: the information, including but not limited to, text, graphics, images and other material contained on this article are for informational purposes only. No material on this site is intended to be a substitute for professional medical advice, diagnosis or treatment. If you are looking for a Christian counselor near you, please check out our directory located here: Christians Therapist Near Me
---
---
---
Featured Christian Therapists
---
Funmilola (Lola) Adelokiki
Specialty Psychiatrist or Nurse Practiti... Located in Spokane, WA
View Listing
Laura L Cardwell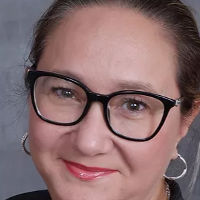 Specialty Psychiatrist or Nurse Practiti... Located in Bullhead City, AZ
View Listing
Kemi Adepoju
Specialty Christian Mental Health Providers Located in Prosper, TX
View Listing
---
Christian Mental Health Providers
Search to find a Christian therapist near you